Wisconsin Towns and Places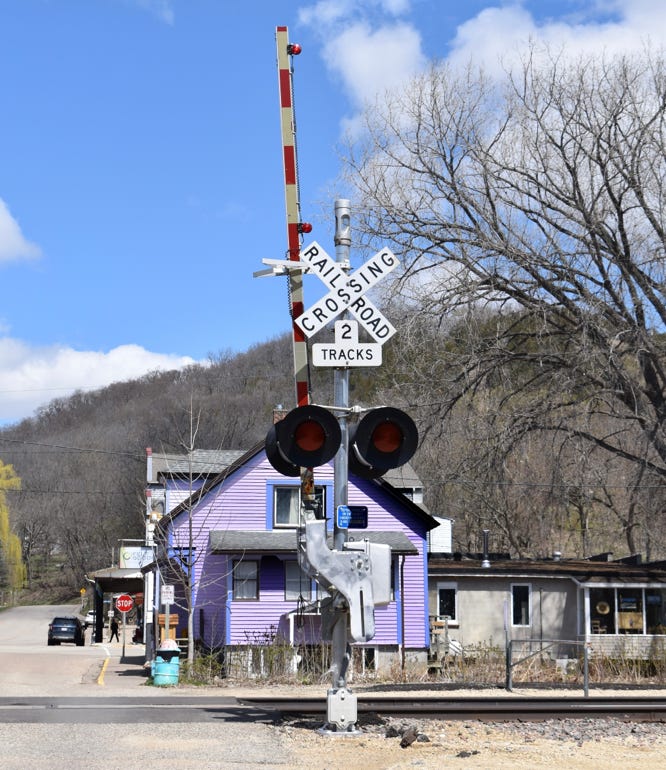 Stockholm
Stockholm in Pepin County, on the Mississippi River, with a population in the sixties or seventies, is among my favorite towns in Wisconsin. I never tire of visiting it. For me, it has an allure that comforts me.
The town is rich in culture and attractive to artists and artisans. It has a certain charm that is hard to explain.
The first sign of the town for me was back in 2016 as I was zooming down the Great River Road, Hwy 35. It was kind of a dull day, dark clouds hanging over me, and there on the side of the road, I spotted this, Stockholm Gardens, Nursery and Landscape.
I pulled into the parking lot before even seeing the town. I'm not big on growing plants, but I have to say the place made me smile. The colors were bewitching on such a gloomy day.
So I walked around a bit and got a tad wet when the clouds let loose.
I returned in 2019 when the weather was better. What a difference the sun makes!
I seldom take photos of flowers, but I could not resist these. Ha, they seemed everywhere, just bouncing with color and energy.
People from Sweden settled in Stockholm, Pepin County, Wisconsin. I've spent many years in Europe and these flowers reminded me of the splendor of European parks in the spring.
Let's take a walk through the town. Regrettably, the weather on July 26, 2016, was rain and dark clouds hanging overhead. But for me, the village still looked great!
I see the Stockholm Pie and General Store as the village's centerpiece. The building is more than 100 years old. Its pies do not contain any canned ingredients, every crust is made from scratch.  It features candy and knick-knacks and hosts an excellent though small, restaurant. One day, I was lucky to sit at a table for two next to the front window, so I could watch everyone passing by, wishing they had my seat.
This was the Historic Stockholm Hotel. It was sold in 2021 and is now known as Rivertown Landing. The original hotel was established in 1914 in the heart of the village.
This is Sandy's Clothing & Art, "A boutique field by purpose and passion."
Sandy says, "My shop is my art form...My mission: keep it meaningful and authentic! " The store sells accessories, clothes, art, beauty and wellness items, and "Other cool stuff."


In 2016, this was Ingebretsen's av Stockholm, a Scandinavian gift shop.
It is now Scandihoo. It  offers a "collection of goods by makers - both near and far - who honor the old-world Nordic style and craft, while adding artisans and makers who embrace a fresh, modern Nordic aesthetic." The store carries items from "Austria, Germany, Poland and the USA embracing a wide array of our immigrant roots."
In early May 2023, I zoomed back to Stockholm on a photo shoot. I was unhappy with some of the photos I left in the library. Fortunately, on this latest trip, I had lots of sun!
I'll start with the photo I presented at the opening of this article.


I call this Lavender and Rail.


The lavender is home to Felt Good, "Clothes you can trust." I think the owner is named Monica. She weaves a lot of the clothes she has for sale.


This lovely home hosts The Palate. It is a kitchen store. Shana, the owner, describes her store this way:
"We are part little bakery with our famous scones, part 'hard to find' gourmet groceries, fine products for entertaining like French porcelain and Laudable French Linens, part cooking class Happy Hours with our Le Cordon Bleu Chef Mary, part wine bar with many by the glass offerings and part place to go if you are peckish for a fabulous cheese board."


Katie Walsh owns this next stop, Iris & Oak Gallery/Gifts. Katie says this about her shop:
"I hope you will enjoy the brand that I have created with Iris and Oak. A brand of authenticity, craftsmanship, and quality. Where just about everything on the shelves is fair trade, ethically sourced and eco-friendly."


This is a fun place, the Hugga Bugga! "Local craftspeople stock Hugga Bugga with kitchen items, jewelry, soap and lotion, bird and garden art and home decor." The store says everything is handmade.

I mentioned early on that I see the Stockholm Pie and General Store as the village's centerpiece.  The Market Place adjoins the pie place and is part of the whole enterprise. It advertises.
"nostalgic and fun time for all ages. Nostalgic candies, great toys and lots of fun gifts. In the Marketplace find the best of Wisconsin cheese, wine, craft brews, kitchen gadgets and cookbooks and so many fun foods and treats from Wisconsin!"


The Art Orchard is a gallery and studio space in Stockholm, Wisconsin. Owned and operated by local artist Kendra Gebbia. Kendra specializes in woodcut printmaking and oil painting.


Ann Mooney owns and operates Indigo Swan. It "curates a world-wide selection of hand-crafted art from both award-winning and novice artists in the disciplines of jewelry, mosaic, fused-glass, stained-glass, photography, pottery, woodwork, water colors, acrylic, multi-media and calligraphy."
Ann will help you design your custom fine jewelry. She takes custom orders for special occasions.


This is a big building because it needs to show you the variety of Amish Crafted Furniture. Its name is Northern Oak Amish Furniture. It is a family-owned and operated business. It offers a wide range of furniture from Red Oak, Quarter Sawn White Oak, Cherry, Brown Maple, Hard Maple, and Hickory.  You can also order custom-built furniture. Craftsmen and artisans make the furniture from around the country.


As I drove out of town on CH J on my way home, I couldn't help but be attracted to this beautiful home in such a beautiful setting. It says it all for this magnificent town.